Dear Colleague and Friends,
On behalf of the SIOP Nursing Committee, it is my pleasure to invite you to the SIOP 2020 Congress. This year marks the 27th meeting of SIOP Nursing, and will be an opportunity to celebrate the WHO designated "Year of the Nurse and Midwife", highlighting the critical role that nurses play in the delivery of clinical care, health promotion, and disease prevention.
This has been a year like no other. COVID19 has caused significant disruption in our professional and personal lives and has had a worldwide impact on those who care for young cancer patients and their families. In these unprecedented times, the resiliency and dedication of nurses on the front lines and in leadership roles have been spotlighted as the pandemic unfolds around us. Although SIOP 2020 will be virtual, this Congress will be a unique opportunity to share our stories, learn from each other, and build our strength for the challenging road ahead.
Wednesday, October 14th is the pre-congress nursing educational day and is open to all. It will feature a joint Nursing/Young Investigators session on communication strategies when delivering bad news, along a collaborative session with Supportive Care group on the topics of sleep disturbances, fertility preservation and nutrition. The main congress will be held Thursday through Saturday, October 15-17 and offers presentations on the top nursing abstracts from around the globe. We are thrilled to announce that Marilyn Hockenberry, PhD RN (Duke, USA), will give the nursing keynote lecture this year on "Symptoms Experienced During Childhood Cancer Treatment: A Multidisciplinary Approach to Assessment and Management".  In addition, we will proudly acknowledge the third SIOP Nursing Lifetime Achievement Awardee for his/her substantial contributions to pediatric oncology nursing.
SIOP 2019 brought many interesting presentations, networking opportunities, and budding nursing partnerships We look forward to reinvigorating the energy and passion from Lyon, and hope for participation in the nursing sessions from congress delegates from all disciplines.
See you virtually in October!
Kind regards,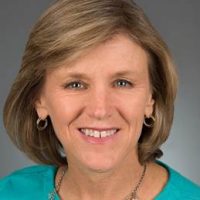 Lisa Morrissey
SIOP Nursing Steering Committee Chair
On behalf of the SIOP Nursing Steering Committee
Scientific Committee Representative | Pernilla Pergert, Sweden
2020 LOC Liaison| Naomi Thick, , Canada
Members:
Rehana Punjwani, Pakistan
Frieda Clinton, Ireland
Courtney Sullivan, USA
Enyo Bosumprah, Ghana