Dear Colleagues and friends,
I would like to welcome the members of SIOP and IPSO to our 29th Annual Meeting. The congress will take place between Wednesday, 14th and Saturday, 17th October, maintaining the original time zone for Ottawa (EST, GMT -4).
This year we will run our meeting as a fully virtual congress because of the worldwide challenges of the COVID 19 pandemic situation. The KENES congress management will provide an excellent broadcasting system, which can simultaneously connect more than 3000 attendees.
Despite these new circumstances, we will have an outstanding program organized by the IPSO program committee lead by our program director Pablo Lobos. We hope that many SIOP members will attend our virtual surgical sessions which are open to all. In the same way many IPSO members will hopefully attend sessions of the SIOP main congress.
I would like to thank our local IPSO organizing chair, Ahmed Nasr, for all his work and for preparing the educational day. This meanwhile traditional element of IPSO meetings will also be performed as online event and will take place after the actual IPSO meeting on Saturday, 17th October.  The topics are liver tumors, sarcoma, lung metastases, and a state of the art lecture about mediastinal masses.
The main IPSO program will start on the morning of Wednesday, 14th October. It is scheduled as 2 day meeting during which the scientific presentations are divided into disease oriented sessions. The Daniel Hays Surgical Skills Seminar will focus on the role of robotic surgery in pediatric solid tumors, management of surgical complications, and new technologies in preoperative planning and intraoperative computer-assisted tools. The IPSO key note lecture this year is entitled "Fluorescence guided surgery in pediatric solid tumors" and will be given by Eiso Hiyama from Hiroshima/Japan.
On Friday, 16th October, the SIOP-IPSO-PROS Symposium will discuss the challenging issue "Treatment concepts in Desmoid tumors".
The IPSO Executive Board would like to encourage and welcome all of you to attend our scientific sessions and to fully participate in the discussions. The virtual meeting offers the chance, that more colleagues from all over the world can participate on this scientific meeting and through this we can improve our international networking.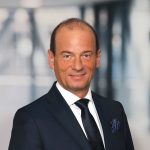 Jörg Fuchs
IPSO President
On behalf of The International Society of Paediatric Surgical Oncology
President-elect | Simone Abib, Brazil
Secretary | Chan Hon Chui, Singapore
Treasurer | Marc Wijnen, Netherlands